M
agic

V

alley

A

mateur

R

adio

C

lub


- News -
Email news events to web @ K7MVA . org
| | | |
| --- | --- | --- |
| | MVARC maintains an Email List with over 150 subscribers. This Email List is used by members for discussion about daily amateur radio activities and club events. It's a great way to stay informed of what's happening in the Magic Valley regarding amateur radio and club activities. To be placed on the MVARC Email List, send your email address to "web @ K7MVA.org" | |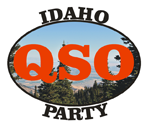 Idaho QSO Party in March
MVARC is the new sponsor for the Idaho QSO Party to be held in March. Click on the link for more information.
Idaho QSO Party Link
"Silent Key Tribute" Memorial Presentation Video by KA7BIF
Click HERE for the Youtube video
MVARC Annual Christmas Party Winners!
Congratulations to the winner of the Yaesu FT-991a radio at the party was Jim Kennedy W7OUU. Congratulations to Jim as he will put the radio to good use!
The winner of the Ham Of The Year (HOTY) award was Lance Vander Meiden who was recognized for his willingness to help hams get up and running with their FUSION radios and in helping to expand the MVARC Fusion network.
Ada commission encourages uniformity with handheld bans 11/18/2019

The below-linked article was brought to our attention and is a matter all Idaho hams should be aware of. Government ordinances that get passed and enforced in one area tend to get copied in other areas. So it is that we need to stay on top of these things regardless of where in Idaho it occurs. A ban on the use of handhelds while driving would have a direct effect on our ability to do disaster/emergency communications. I have asked our ARRL Local Government Liaisons (LGL) for Idaho to get involved with this and I would like to encourage all Idaho hams, clubs and organizations to respond to this as appropriate.

https://www.idahopress.com/news/local/ada-commission-encourages-uniformity-with-handheld-bans/article_c97b250c-1294-5f11-87a9-0692bf8316ed.html

Dan Marler, K7REX
Idaho ARRL Section Manager
Sent 2019-11-18 14:57:11 UTC by Dan Marler (K7REX), Section Manager

MVARC holding Arduino Classes
If you want to learn all about the Arduino and what you can do with it join us Monday evenings 6:30 to 8:30 at the K7MVA club station at the Scouting Office 2988 Falls Ave. East in Twin Falls. Dean Etherington KI7CC will be teaching us about the Arduino. Everyone is welcome to attend. Bring your laptop and a desire to learn. There is no cost to current MVARC members and their immediate family. There will be a $20 one-year membership required for non-MVARC members.
New MVARC Officers 4/14/2019
President: Jim Kennedy W7OUU
VP: Brent Adamson K2SAW
Secretary: Alex Payne KF7LDR
Treaurer: Terry Nelson AD7P
Member at Large: Kelly Klaas K7SU
Boise Kids Talk to Space Station via Ham Radio

This URL
is an eleven minute video of the recent, very successful contact between the International Space Station (ISS) and the Galileo STEM Academy (GSA), Eagle, ID, September 3, 2019. Almost 800 students were present.
Some interesting facts
Call signs: ISS NA1SS, GSA W7GSA
Radio operators: ISS Nick Hague KG5TMV, GSA Tony Baca WV7I
Questions: 20 by 10 students.
Range to ISS at original call: 1500 miles
Gene Pentecost W4IMT
Ham Team Lead
Galileo STEM Academy
State of Idaho Digital Fusion Net.
The SIDFN currently meets each Thursday evening at 1845 hours MDT. For information on how to join the system please GO HERE.
We currently have roll call and take FUSION questions and ham gear wanted or for sale.
Idaho Section ARRL Introduces New Idaho ARRL Website 12/8/2018
It's a new look for the Idaho Section ARRL website. The new site launched officially at midnight December 8, 2018. The new site has many resources for Idaho hams that were not previously available including a forum page. There are several forums that you can now participate in and new ones can be created on the fly. The statewide repeater list has also been updated and there is an online form that you can fill out and send with corrections you may have to the current list. There is a COMING EVENTS page where you can list upcoming events and activities for your local ham radio club. This is also a work in progress so new features will be added along the way. If you have ideas for features please email K7SU @arrl.net. The link for the new site is www.idahoarrl.info. Be sure to pass it along to others who may not know.
INFORMATION FOR ALL THE REPEATERS IN THE JEROME/TWIN FALLS AREA
.