M
agic

V

alley

A

mateur

R

adio

C

lub


- News -
Email news events to web @ K7MVA . org
| | | |
| --- | --- | --- |
| | MVARC maintains an Email List with over 150 subscribers. This Email List is used by members for discussion about daily amateur radio activities and club events. It's a great way to stay informed of what's happening in the Magic Valley regarding amateur radio and club activities. To be placed on the MVARC Email List, send your email address to "web @ K7MVA.org" | |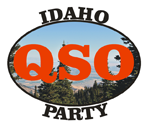 Idaho QSO Party
MVARC would like to thank everyone who participated in the 2020 Idaho QSO party. Everyone seemed to have fun and participation by Idaho hams seemed to be a lot higher this year. We are looking forward to next year and also processing this year's logs. If you still have questions about the event, click the link.
Idaho QSO Party Link
Idaho Ham Radio STEMfest 2020 Cancelled Due To Covid-19
Due to safety concerns for all involved, the committee organizing the STEMfest has decided to cancel this year's event due to the Covid-19 virus. The committee is making plans for next year. If you or your group would like to be involved in the event in 2021 please contact Bob Minton, NU7L,
NU7L (dot) Idaho@ gmail.com


The following is an email sent to George Gorsline, VE3YV, Region 2 Secretary of the IARU 3/5/2020
This is regarding a story from ARRL. Region 2 is attempting to assemble a "brain trust" of younger hams to get ideas for recruiting younger folks into the ham radio hobby. Read the story HERE.

To: George Gorsline, VE3YV
VE3YV@rac.ca

Hi George,

My name is Kelly Klaas, K7SU. I read your request via the ARRL News looking for young hams to join a "brain trust" to bring the hobby into the 21st century.

I run a Yaesu Digital Fusion net on our MVARC system in southern Idaho. I read your story and posed a question as our "question of the week" to get ideas from our checkins. I realize these answers are unsolicited but I thought I would pass some of them onto you as I thought they were good ideas and I told our checkins that I would pass these ideas along. Perhaps you could use some of these as "conversation starters" after your young brain trust has been assembled.

The question I posed was "what ideas do you have to help attract younger people to the ham radio hobby."

Some of the ideas presented were...

1. STEMfests and hamfests geared toward Science, Technology, Engineering and Math projects. Use this as a gateway to flame their interests in technology and ham radio.

2. Education and promotion. Many younger folks today have no idea ham radio exists or what it can do. Or, they think it is obsolete and went away years ago. Many people today are probably interested in some aspect of ham radio if they knew it existed. They don't know what they don't know.

3. By younger hams we don't want to just focus on school kids but also on the 20's to 30's age group that not only may have an interest in ham radio but also have some disposable income to spend on equipment. Of course, we don't want to ignore anyone interested in the hobby, regardless of age.

4. One idea mentioned by several people was to use teachers who have an audience with the kids every day. Getting the teachers interested, at least to the point of promoting it as an option for their students, could help tear down a big wall that now exists between kids (younger people) and a bunch of grumpy old hams.

5. Rather than putting emphasis on just the communications side of it, instead we should emphasize the technical aspects of ham radio such as building, experimenting with Raspberry Pi, Arduinos etc.

6. Rather than emphasizing mainly VOICE communications, instead emphasize the digital comms that involve using a computer/keyboard, iPad etc, even the smartphone.

7. Appeal to the things in life that directly affect the younger population, specifically avoiding recruitment by emphasizing EMCOMM which can be boring and a big turnoff to newcomers, unless, of course, they are specifically interested in EMCOMM.

8. Every successful business advertises. A good way to promote ham radio is by PSA's on local media, specifically radio. Many radio stations have certain time slots they have to fill either with paid advertising or Public Service Announcements (PSA's). This is a great place to get free advertising as most local radio stations would rather run an interesting local message about the ham club looking for interested people than to run the boring and overused canned PSA's from the Ad Council. Checking with local stations is a good place to get the foot in the door for lots of free promotion.

These were just some of the ideas presented. I don't know if they will be of any help or not. These certainly don't help in getting volunteers to join the "brain trust" but maybe, in some small way, they can become a spark that will ignite the fire.

Thank you for your time and we wish you the best in this very worthwhile endeavor.

73,

Kelly Klaas K7SU
Member BOD, Magic Valley Amateur Radio Club
www.K7MVA.org
NCS, State of Idaho Digital Fusion Net
https://www.k7mva.org/fusion.html
"Silent Key Tribute" Memorial Presentation Video by KA7BIF
Click HERE for the Youtube video
MVARC Annual Christmas Party Winners!
Congratulations to the winner of the Yaesu FT-991a radio at the party was Jim Kennedy W7OUU. Congratulations to Jim as he will put the radio to good use!
The winner of the Ham Of The Year (HOTY) award was Lance Vander Meiden who was recognized for his willingness to help hams get up and running with their FUSION radios and in helping to expand the MVARC Fusion network. To see pictures of the event CLICK HERE.
New MVARC Officers 4/14/2019
President: Jim Kennedy W7OUU
VP: Brent Adamson K2SAW
Secretary: Alex Payne KF7LDR
Treaurer: Terry Nelson AD7P
Member at Large: Kelly Klaas K7SU
Boise Kids Talk to Space Station via Ham Radio

This URL
is an eleven minute video of the recent, very successful contact between the International Space Station (ISS) and the Galileo STEM Academy (GSA), Eagle, ID, September 3, 2019. Almost 800 students were present.
Some interesting facts
Call signs: ISS NA1SS, GSA W7GSA
Radio operators: ISS Nick Hague KG5TMV, GSA Tony Baca WV7I
Questions: 20 by 10 students.
Range to ISS at original call: 1500 miles
Gene Pentecost W4IMT
Ham Team Lead
Galileo STEM Academy
State of Idaho Digital Fusion Net.
The SIDFN currently meets each Thursday evening at 1845 hours MDT. For information on how to join the system please GO HERE.
We currently have roll call and take FUSION questions and ham gear wanted or for sale.
Idaho Section ARRL Introduces New Idaho ARRL Website 12/8/2018
It's a new look for the Idaho Section ARRL website. The new site launched officially at midnight December 8, 2018. The new site has many resources for Idaho hams that were not previously available including a forum page. There are several forums that you can now participate in and new ones can be created on the fly. The statewide repeater list has also been updated and there is an online form that you can fill out and send with corrections you may have to the current list. There is a COMING EVENTS page where you can list upcoming events and activities for your local ham radio club. This is also a work in progress so new features will be added along the way. If you have ideas for features please email K7SU @arrl.net. The link for the new site is www.idahoarrl.info. Be sure to pass it along to others who may not know.
INFORMATION FOR ALL THE REPEATERS IN THE JEROME/TWIN FALLS AREA
.