M
agic

V

alley

A

mateur

R

adio

C

lub




- Testing Sessions -


IF YOU PLAN TO TAKE YOUR TEST WITH US
PLEASE READ THIS ENTIRE PAGE

Next testing session: Saturday, Nov. 18th, 2023
9 a.m.

Location: Happy Landing Restaurant Conference Room at Twin Falls Airport .
Enter the restaurant through the WEST door on the patio. Conference
room is on the east side of the dining area. If the WEST door is locked
due to wind then enter through the main terminal doors and enter the
restaurant to your right after entering the terminal building.

Please RSVP if you will be attending the testing session by Wednesdy preceeding the testing date. If we have no RSVPs by then we won't be there to conduct the test. So informing us you will be there is necessary. To RSVP please email
TESTING@ K7MVA.org or call 208-731-8870. If you RSVP then we will be there.




PLEASE NOTE...

NEW FCC RULES

NOW REQUIRE

YOU TO PRE-REGISTER WITH THE FCC AND OBTAIN AN "FRN" NUMBER BEFORE YOU TAKE THE TEST. PLEASE SEE THE INSTRUCTIONS BELOW TO APPLY FOR YOUR FRN "FCC REGISTRAION NUMBER" WITH THE FCC IF YOU DON'T ALREADY HAVE ONE.

YOU MUST ALSO HAVE A VALID EMAIL ADDRESS. THE FCC NOW COMMUNICATES VIA EMAIL. IF YOU DON'T HAVE YOUR OWN EMAIL YOU WILL NEED TO GET PERMISSION FROM A FRIEND OR RELATIVE TO USE USE THEIRS FOR THIS PURPOSE.

FOR INFORMATION ON OBTAINING YOUR "FRN" NUMBER PLEASE GO TO THIS LINK!

* * * Effective April 19, 2022 * * *

A $35 fee will apply to applications for a new Amateur Radio license, modification (upgrade and sequential call sign change), renewal, and vanity call signs.



Please note...you will NOT pay the $35 fee at the testing location. The $35 fee will be paid to the FCC when they receive your passing exam papers.



You will still pay a $15 testing fee at the Volunteer Examiner site when you take the test.

CLICK HERE for more information on the $35 FCC Licensing Fee.



If you are wishing to take your ham radio exam from MVARC, the information below is very important. Please read ALL the information. There are some things you can do before the session to have the proper papers ready beforehand.

Please follow ALL the instructions below and pay particular attention to these instructions.



The Magic Valley Amateur Radio Club holds testing sessions for the Technician, General and Extra Class license, typically on the third Saturday of every odd month starting in January. Dates may change or be cancelled due to holidays or other circumstances so it's best to check here often if you plan on taking a test on any given testing day.

Please go to THIS LINK to get more information on what to bring to the testing session and the DO's and DON'Ts while at the session.

If you plan to test on one of the dates listed at the bottom of this page please email us

HELP@ K7MVA.org

to let us know if you will be attending. RSVP is not necessary to take the test but we do like to know about how many to expect.



W

HAT YOU WILL NEED TO TAKE THE TEST



- 9 a.m. in the conference room at the Happy Landing Restaurant at the Twin Falls Airport.
- Bring at least one form of a PICTURE identification. A picture ID is a requirement.
- If you do not have an FRN (FCC Registration Number) you must pre-register at the FCC site to get one.
- Go to THIS LINK to learn how to appy for an FRN number.
- If you currently hold an amateur radio license, bring your original license AND a photocopy.


IF YOU DO NOT BRING A PHOTOCOPY OF YOUR LICENSE YOU WILL NOT BE ABLE TO TAKE THE EXAM. WE DO NOT HAVE COPYING CAPABILITIES AT THE EXAMINATION LOCATION!


- Bring CSCE's from previous exams (if any) that are not over 364 days old
- Bring $15 testing fee. (Non-refundable...Exact Cash only...Please bring EXACT CHANGE.)
- Calculators are allowed except those that may remember formula's in the memories.
NOTE! iPhones, iPads, Androids, smartphones, Blackberry devices and all similar electronic devices with a
calculator capability, may NOT be used.


- Please be prepared to turn off cell phones during the testing session.
- You may not place a call or accept a call on your phone while testing.
- You may not leave the room while you are taking the test.
- If you get a passing grade on a test you may take the test for the next level up without an additional fee.
- If you fail a test you can try it again for an additional $15 fee. (non-refundable)

HOW TO APPLY FOR AN FRN NUMBER

Here is a

LINK

where you can apply for your FRN (FCC Registration Number) before you attend an examination event. After you receive your FRN number from the FCC you will use that number for any licensing business with the FCC.



After receiving your FRN from the FCC, please go to THIS LINK..and fill in the 605 form, including your FRN number.

Do NOT use the Form 605 on the FCC site!

Fill out the top half of the form online then print it on your own printer. Sign and date the 605 form. Print this form and bring it to the testing session. The testing team will fill out the rest of the form below your signature.





IF YOU ARE UPGRADING WE NEED A COPY OF YOUR CURRENT LICENSE

If you are upgrading your license please note...it is the responsibility of the licensed applicant seeking to upgrade to provide the VE's with a copy of your valid current license. The VE's will KEEP the copy and it will be sent to the ARRL with your test papers. The FCC no longer issues paper licenses but they are available on the FCC web site for you to print out on your own. This will be necessary for you to do before you can take the test. Below are the links and steps to follow to print out your current valid license.

This is what your reference copy should look like...Be sure to sign it!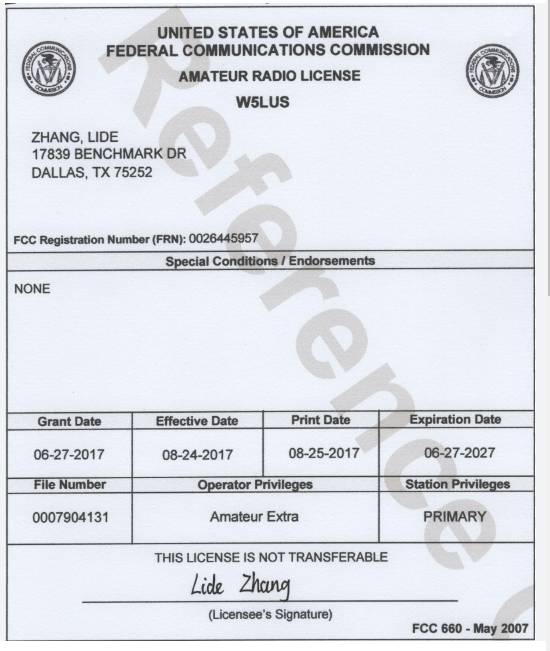 For those seeking to upgrade...to find and print your "current valid license."

1. Go to THIS LINK.

2. Search for your call sign in the .LICENSE SEARCH box at the top of the page.

3. Several other calls may be displayed along with yours. Click on YOUR call sign

4. Click on the ADMIN tab

5. Click on "Authorization -- Licensee" under AUTOMATED LETTERS AND AUTHORIZATIONS.

6. Click on the link at the top that says REFERENCE COPY. Note: To obtain an OFFICIAL COPY of your license you must log into the FCC site using your FRN number and a password.

7. Your reference copy license will open in a PDF file for printing or saving or it may download as a file at the bottom of your browser. This reference copy is what you bring to the testing session.

IF YOU PASS...HOW TO GET YOUR LICENSE

The FCC no longer issues paper licenses when you pass. When you fill out the form 605 at the test session there is a box for your email address. If you fill that out legibly they will notify you by email and your license will be attached in PDF form. You can also check for your license on the FCC website. HERE is a short youtube video that shows you how to search using your name.


For more information - Email:
HELP@ K7MVA.org






To take an online practice test CLICK HERE